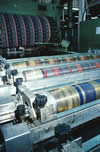 The Industrial Production Index (IPI) is a situational indicator that measures the monthly development of productive activity of industrial branches, contained in the National Classification of Economic Activities 2009 (CNAE-2009) excluding construction. It therefore investigates activities included in sections B, C, D and, for the first time for base 2010, as well as division 36: Collection, purification and distribution of water, from section E of the CNAE-2009.
The IPI measures the joint evolution of quantity and quality, by removing the influence of prices.
To obtain this a continuous monthly survey is carried out, which investigates more than 11.500 industrial establishments every month.