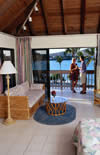 In January 1999 the Hotel Occupancy Survey replaced the former Survey on the Movement of Travellers in Hotel Establishments (MTHE) thereby broadening the investigation to the one star and similar categories given that apart from representing more than 50% of the total establishments, they also represent more than 5% of the arrivals of travellers.
The analysis units are all hotel establishments registered as such in the corresponding register of the Tourist Boards of each autonomous community.
Hotel establishments are those establishments that provide group accommodation services by means of price with or without complementary services (hotel, hotel-apartment or aparthotel, motel, B&B, guest house,...).