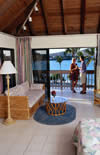 The Holiday Dwellings Occupancy Survey provides information on the accommodation supply and demand provided by holiday dwelling establishments.
Holiday dwellings and companies using tourist dwellings are studied, in those Autonomous Communities whose regulations consider them as such. (Cataluña and Comunidad Valenciana), registered as such in the corresponding Tourist Councils of each Autonomous Community.
Buildings that are usually rented for occasional guests, including apartments, chalets, villas, bungalows are considered a holiday dwelling (unit).