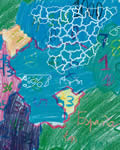 This section covers the relationship between municipalities and their codes by provinces, updated to 1st January 2017. A section also appears with the modifications registered in the municipalities dictionary between 01-01-2016 and 01-01-2017.
The denominations of municipalities and provinces that appear here are those that feature in the Ministry of Treasure and Public Administration, Register of Local Institutions (REL), the National Institute of Statistics being the Institution responsible for assigning the corresponding codes.
The present relationship is updated every year referred to 1 January. Nevertheless, amendments are also published, having arisen over the course of the year, as we have been made aware of them via the Register of Local Institutions (REL)
The municipal code is made up of six digits: the first two correspond to the province code and the remaining four to the code within this. Of these four,the last one is a control digit, assigned via a calculation rule. It facilitates the detection of recording and coding errors.