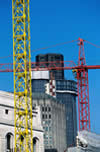 The Housing Price Index (HPI), with base year 2007, has the objective of measuring the evolution of sale prices of free price dwellings, be they new or secondhand, over time.
The information source used for the calculation of the HPI comes from the registered housing databases provided by the General Council of Spanish Notary Publics, from which the transaction prices of the dwellings are obtained, as well as the weightings assigned to each group of dwellings with characteristics in common.
The sample used for these statistics comprises all dwellings registered during the reference quarter.
The design and development process of the HPI has been carried out in coordination with the Statistics Office of the EU (Eurostat).