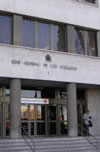 The Urban Leases Statistics analyse legal disputes regarding urban leases. Information is provided on the number of resolutions and decrees (the latter as of 2012), classified according to the type of lease, and according to the cause of the case and passing of the judgment (in the case of judgments)
These statistics are carried out by the INE, pursuant to the partnerthip agreement signed with the General Council of the Judiciary Branch (CGPJ) on 14 February 1995.
As of 1 January 2007, the data collection has been carried out using an online computer application through the Neutral Judicial Point of the CGPJ.
As a result of the application of some new methodological criteria, and of the introduction of the decrees, the 2012 results are not directly comparable with those from previous years.
Results are provided on national, Autonomous Community and provincial levels.