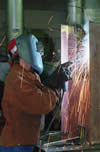 The Quarterly Labour Costs Survey (QLCS) is a continuous short-term statistic, elaborated quarterly by the INE. It is the fundamental source of information for the computation of the Harmonised Labour Cost Index and it forms a part of the euroindicators that Eurostat has requested from countries in the euro area, in order to measure the convergence of labour costs in the member states.
The QLCS provides levels and indicators regarding the average labour cost per worker and month, the average labour cost per hour worked, and the time worked and not worked.
As of the third quarter of 2013, the Quarterly Labour Cost Survey (QLCS) includes a new section to compile the Vacancy Statistics (VS), which is compulsory, as it is covered by European Parliament and Council Regulation 453/2008. Up until the fourth quarter of 2012, the VS was obtained from the Short-Term Labour Survey (compiled by the Ministry of Employment and Social Security).