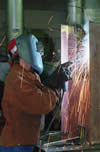 Employment of persons with disabilities, is a continuous operation carried out annually since 2010. It investigates the situation with regard to the labour market of the group of persons between the ages of 16 and 64 years old who hold disability certificates, in comparison with the persons without disabilities.
This operation uses information deriving from integrating statistical data supplied by the Economically Active Population Survey (EAPS) with the administrative data recorded in the State Database of Persons with Disabilities (BEPD). The BEPD is a registration system, with national scope, of proceedings for valuing persons with disabilities. It provides information regarding the features of citizens who have officially been recognised as persons with disabilities by the State administrative bodies with jurisdiction.
Indeed, this operation includes information regarding measures to boost employment and protected employment from the General Social Security Treasury (TGSS) and information regarding dependence on the System for the Autonomy of and Support for Dependent Persons (SAAD).
The statistical operation is a result of a collaboration agreement among the INE and the IMSERSO, the Directorate General for the Coordination of Sectoral Policy for Persons with Disabilities, the Spanish Committee for Persons with Disabilities (CERMI) and the ONCE Foundation.