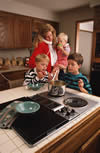 The Living Conditions Survey (LCS) belongs to the ever more complete set of harmonised statistical operations for European Union countries. In this case, the statistics have been harmonised from the very beginning of the project, as they are based on a European Parliament and Council Regulation that controls the development of this statistical operation
The carrying out of the LCS provides the European Commission with a first class statistical instrument for poverty and inequality studies, a follow up of social cohesion within the relevant territory, the study of population needs and the impact of social and economic policies on households and people, as well as the design of new policies.
The LCS is an annual survey directed at households and was preceded by the European Union Households Panel (EUHP) carried out during he 1994-2001 period. Both surveys have similar characteristics and objectives and the EUHP contributes valuable experience to the new survey.