Survey on Disabilities, Impairments and State of Health 1999. General Report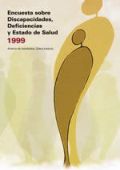 El Instituto Nacional de Estadística (INE) presenta en esta publicación un análisis de la Encuesta sobre Discapacidades, Deficiencias y Estado de Salud (EDDS). El estudio en profundidad de esta Encuesta tiene gran interés por su potencial contribución al diseño de políticas sociales y, en particular, de programas de atención a personas discapacitadas y dependientes. Este Informe General ofrece una panorámica completa de los resultados obtenidos en la EDDS.
Este Informe se ha realizado en virtud del Convenio de colaboración firmado por el INE, el IMSERSO, la Fundación ONCE y el Consorcio Centro de Estudios Demográficos de la Universidad Autónoma de Barcelona y ha sido elaborado por este último organismo.
Contents of the publication (Files in PDF format)
How to acquire the publication?
In our bookshops


If you want to acquire it cash on delivery, you may request it by e-mail.
Format:
Print
Price (including VAT):
36.03 €