Functional Urban Areas: Santa Cruz de Tenerife
Description
The Functional Urban Area (FUA), formerly known as Larger Urban Zone (LUZ) consist of a city (or cities) and its (their) commuting zone. It is an aggregation of LAU level 2 territorial unit (municipalities in Spain). The goal is to have an area from a significant share of the resident commute into the city. The FUA is an area in which 15% or more of the employed population commutes to work to the city center. That is the main criteria but there are others as contiguity. In Spain, the 15% threshold of commutig rate, is applied for all municipalities with more than 2.000 inhabitants. Below that population, it is used the following scale:
From 1.000 to 2.000, a commuting rate of 25%
From 500 to 1.000, a commuting rate of 35%
From 100 to 500, a commuting rate of 45%
From 0 to 100, a commuting rate of 50%
The source of commuting information is the Census 2011.. Further information.

Tables
Maps
Map series since 2015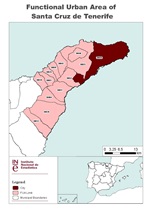 Enlarged map
Functional urban areas and their municipalities
2010-2014 Series map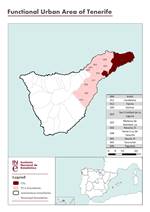 Enlarged map